Skip to product information
Rapid Home Vitamin D Health Blood Test
Sale price
£21.00
Regular price
Tax included.
Our Rapid Home Vitamin D Health Blood Test offers a simple solution for assessing the Vitamin D levels of yourself and your loved ones. Using a finger-prick blood test, just a few minutes of your time will give you a detailed and accurate overview of your Vitamin D status, providing peace of mind that you have a good understanding of your health. Vitamin D plays an integral role in immunity, bone strength, and mood, so if you're feeling tired, sluggish, or irritable, having your Vitamin D levels checked could be beneficial. Get your results quickly and conveniently on our dedicated app, without needing to visit your GP. Get your Vitamin D blood test today and get the health knowledge you need!

The Spark D vitamin test kit contains a blood collection device, as well as a blue lancet needle device. For a full in-depth how to guide check out our video.
Make sure to use the sanitizer wipe contained within the pack, wipe clean index finger and allow to dry.
Once this has been done use the lancet to prick the finger, slowly massage the blood flow.
Use the blue sampler device to collect the blood drops and fill the tube to the line (10ul of blood)
Now it's time to fully insert the blood collection device into the blood collection tube.
Make sure to remove the silver lid first and be sure to seal the two parts together as per your instruction manual.
Shake the sampler 3-4 times until there is no more blood within the blood collection device. Once this is completed remove the cap.
Now comes the magic bit - Take the vitamin d reader and collect 3 drops of blood onto the section marked (S). Now you can sit back, put the kettle on and wait 15 mins. Refer to mobile phone application for results.
This product is suitable for anyone looking to test or know their vitamin D levels. This product can be used by both Adults & Teenagers.
This product contains an object which is sharp. It is recommended that young adults or teenagers are supervised when using this product.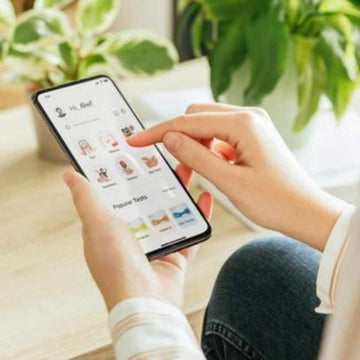 vitamin D test benefits
Vitamin D, also know as cholecalciferol, is a nutrient that is needed for healthy bones and muscles. If you lack Vitamin D, this could lead to bone deformities such as Rickets and Osteomalacia in children and adults respectively.
You may need a Vitamin D Blood Test in order to find out if you are Vitamin D deficient. It is recommended to test three times throughout the year and to maintain a consistent Vitamin D intake.